History of Dever's List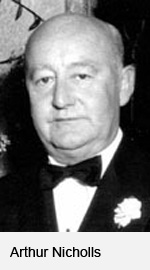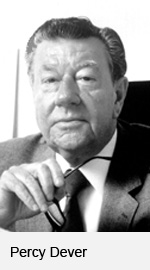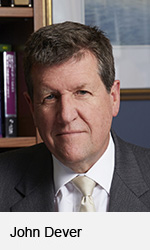 To view a list of Current and Retired Judges who were members of Dever's List - Click here.
Theophilos Druce began operation as the Barristers' Clerk for this List in 1860. He was born in Liverpool, England, in 1841 and migrated to Australia in 1852. He lived at Emerald Hill and as a very young man established his Barristers' Clerk business at Temple Court. Theophilos later moved his clerking business into Michies Building, which for some time was the main home of the Bar, and in 1881 Theophilos and most of his List moved to Selborne Chambers which had just been built. In 1892 Theophilos was joined by his son Frank Druce, who took over as the Clerk in 1911, upon Theophilos passing away.

Arthur Nicholls joined Frank Druce after the 1914-18 war.
Percy Dever was born in Williamstown, with his father working for the railways as an engineer. After school, Percy worked at Blake and Riggall as a law clerk. At the outbreak of WWII he enlisted in the Australian Navy. When he returned from the war, he returned to Blake and Riggall and in March 1946, was asked by Arthur Nicholls to come and work as a Barrister's Clerk with him.
Arthur took Percy into partnership in 1953, the partnership being called A B Nicholls & Dever. Arthur Nicholls finally retired from the practice in 1964, leaving Percy as owner of the business.
John attended Haileybury College from 1958 to 1970. He then worked for a short while at CUB and CSL before Percy Dever brought
him into the business as a
junior clerk in February 1973
.
John worked as a junior clerk for the List until 1985, when Percy passed away. John Dever then was appointed the Barristers' Clerk for the List.
In 1986 John incorporated the business into A J Dever Pty Ltd, known as Devers List to the profession.
John Dever asked Phillip Dever to assist for a 'short while' after Phillip finished University in February 2002; that short term job has extended itself until now.
The same assistance was required as the barrister numbers grew and in 2006 Michael Dever joined the List as a Barristers' Clerk, he having completed a degree in Multi Media [Design].
In 2017 the business was incorporated into Devers List Pty Ltd with John, Phillip and Michael as directors.