History of Dever's List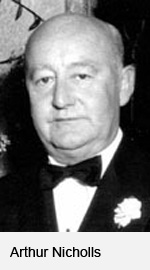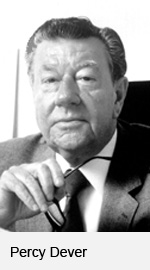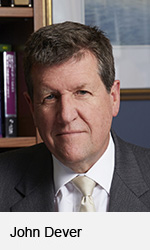 Theophilos Druce began operation as the Barristers' Clerk for this List in 1860. He was born in Liverpool, England, in 1841 and migrated to Australia in 1852. He lived at Emerald Hill and as a very young man established his Barristers' Clerk business at Temple Court. Theophilos later moved his clerking business into Michies Building, which for some time was the main home of the Bar, and in 1881 Theophilos and most of his List moved to Selborne Chambers which had just been built. In 1892 Theophilos was joined by his son Frank Druce, who took over as the Clerk in 1911, upon Theophilos passing away.
Arthur Nicholls joined Frank Druce after the 1914-18 war.
Percy Dever was born in Williamstown in May 1915, with his father working for the railways as an engineer. Percy worked at Blake and Riggall as a law clerk and at the outbreak of WWII he enlisted in the Australian Navy. When he returned from the war, he returned to Blake and Riggall and in March 1946, was asked by Arthur Nicholls to come and work as a Barrister's Clerk with him in Selbourne Chambers, which was next door to Blake & Riggall in Little Collins Street.
Arthur took Percy into partnership in 1953, and the list was renamed A. B. Nicholls & Dever.
The List had two of the best telephonists in Melbourne, Patricia [Pat] Utting, Pat from 1954 [was married to Charlie Utting in 1960, Charlie being a famous Collingwood footballer] and in 1961 when Pat left to have children and bring them up, and then her sister, Cheryl Utting, from 1961 to 1973, when Pat retuned from 'leave'.
Arthur Nicholls retired from the practice in 1961 as the Bar left Selbourne [a move that took 3 days and nights in May 1961] to the new home of the Victorian Bar at 205 William Street, Melbourne, named Owen Dixon Chambers. At that time Arthur Nicholls decided to retire and Percy became the sole clerk. Percy employed a new clerk at that time, by the name of Ken Spurr, albeit a short employment as Ken, who was an excellent young clerk, was asked to take over an existing list two years later in 1963.
John attended Haileybury College from 1958 to 1970. He then worked for a short while at CUB and CSL, while studying economics, accounting, computer science and legal studies, all part time.
Percy Dever asked John to work with him, for a 'short while' as a junior clerk in February 1973.
Percy passed away in 1985 and John Dever was appointed the Barristers' Clerk for the List.
Phillip Dever also came to assist for a 'short while' after finishing University in 2001. Phillip was part time for 18 months and the full time in February 2002.
Michael Dever completed a degree in Multi-Media [Design] and in February 2006 was also asked to join the business.
In 2017 the business was incorporated into Devers List Pty Ltd with John, Phillip and Michael as directors and at that time the List Committee and the Victorian Bar accepted and registered Phillip and Michael as licenced clerks.
[as an aside, the clerks in Owen Dixon from 1960 were Percy Dever, Kevin Foley, Ken Hyland, with David Calnin in Equity Chambers.]